Well known analyst and trader Michaël van de Poppe sees leading cryptos like Bitcoin (BTC) and Ethereum (ETH) are returning to their all-time highs while predicting year end rallies for three altcoins.
In a new strategy session, Van de Poppe tells his 131,000 YouTube subscribers that he's keeping an eye on $44,000 as a key level BTC needs to break past. He also thinks the altcoin market could be "on the edge" of a major breakout to new highs.
"If we are going to break through $44k, you don't really want to see [BTC] hang around [that level] even more. You clearly want to see a heavy breakout.
Based on the daily time frame we are into resistance, but given our recent lower high, we've cracked the trend and we've flipped towards a bullish perspective in which we're most likely going to continue moving upwards.
So then we are again making new a higher low, and then if we correct this area around $48k, we want to create a new higher high which is going to be around the all-time high most likely."
Moving on to Ethereum, the analyst notes $3000 and $3130 as key levels.
"Most likely when Bitcoin is going to consolidate, ETH against Bitcoin or altcoins against Bitcoin are going to break out.
Looking at ETH against USDT, we can see… it did break above this resistance zone [$3130], and you clearly want to keep it sustained above that area. Technically you can drop towards the area around $3k, but overall you want to have some consolidation before continuation in this zone."
The crypto strategist goes on to tell his 426,500 Twitter followers that he sees altcoin Solana (SOL) riding BTC's coattails higher.
"Marked those levels earlier on $SOL.
Beautiful bounce.
Breaking above $145-150 and another run should be possible.
Crucial level around $145-150 though."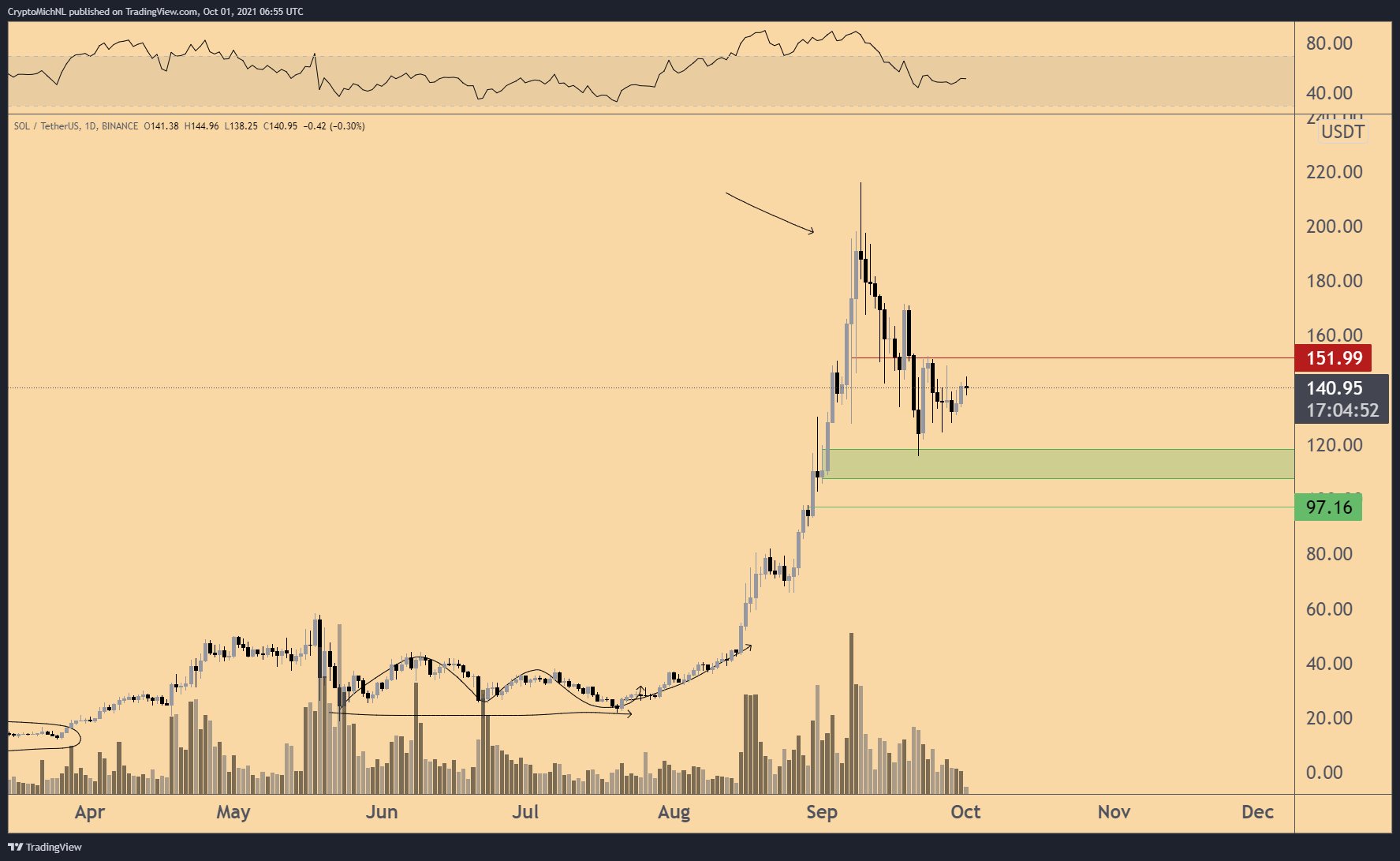 The analyst is also feeling optimistic about altcoins Chainlink (LINK), Cosmos (ATOM), and Polkadot (DOT).
I think we'll be seeing some more coins going towards $100+ this quarter.#Chainlink#Cosmos#Polkadot

— Michaël van de Poppe (@CryptoMichNL) October 1, 2021
"So is altseason going to happen? I think we are literally on the edge of a big bull cycle to be happening once again."
Van de Poppe wraps up by analyzing the Cardano (ADA) chart. He sees $2.34 and $2.80 as two important resistance levels for Cardano to break through.
"Let's go #Cardano."
Keep an eye out for more updates on Michael's predictions.